Castles & Crusades Treasure Generator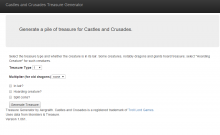 Description:
A web based treasure generator that will generate a pile of treasure for Castles & Crusades. It uses data from Monsters & Treasure.
This URL is a fan submission.  By clicking on the URL link you acknowledge that you are going to an outside website.
DISCLAIMER:  These links are being provided as a convenience and for informational purposes only; they do not constitute an endorsement or an approval by Troll Lord Games. Troll Lord Games bears no responsibility for the accuracy, legality or content of the external site or for that of subsequent links. Contact the external site for answers to questions regarding its content.