Welcome to Knightsofthecrusade.com
Your Headquarters for C&C Organized Play!
Are you interested in running Castles & Crusades at game stores or conventions?  The Knights of the Crusade would like to help!  They're both very important because they introduce C&C to new players and encourage game stores to carry C&C.
We are upgrading this website to allow you to post events and list them.  Events will be announced to the broader community through Facebook, Google+, and the Troll's Tusk newsletter. There is a new organized play forum here on the Knights of the Crusade website.  We're posting more pregens and encounters designed for these games in the Society Library.
Most conventions have rewards programs for people who run games, and we do as well!  By running games at game stores and conventions you qualify for a Knight of the Crusade account here on our website.  If you have scheduled more that 4 hours of game play, please sign up here to become a Knight of the Crusade.  We will upgrade your C&C Society member account to a full Knight of the Crusade.
These are some of the benefits of knight membership: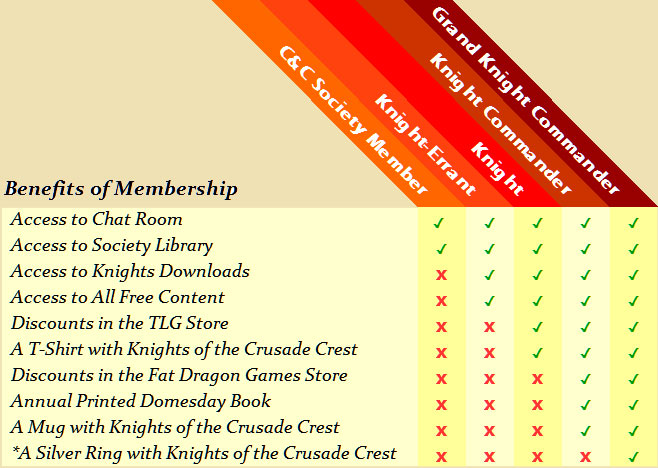 The requirements to sign up for a knight account through organized play are:
Knight-Errant - Run 4 Hours of Organized Play
Knight - Run 12 Hours of Organized Play
Knight Commander - Run 24 Hours of Organized Play
Grand Knight Commander - Run 36 Hours of Organized Play
Please contact us if you have any questions or would like to get involved!